QIPANG 3/6 wheels Welding wire straightening device straightening machine wire straighteners steel wire straightener
Product Action
Our company specializes in R&D and production of a straightener suitable for various welding wires (secondary protection welding wire, aluminum welding wire, flux-cored welding wire). The diameter of the welding wire can be adjusted to 0.8-2.8mm, using professional V-shaped straightening wheels and imported bearings. , It can be adjusted manually according to the different bending and straightening of the welding wire. It has the function of repairing and correcting the bending of the welding bead caused by the unsmooth wire feeding.
The function of the single modulator of barrel welding wire is to automatically straighten the wire when the wire is pulled out from the barrel, reduce the slack diameter of the wire, so as to reduce the impact force of the robot barrel, better send the wire into the guide wire mouth, and reduce the wear of the machine!
Different installation positions require different accessories, please contact customer service according to the situation!
Mainly used for welding wire straightening
1,Straightens cored wire up to 1/8 in (3.2mm) and solid wire up to 3/32 in (2.4mm).
2,Roller diameters 26 mm (1.024")
3,Adjustable rollers on the upper row
4,Rollers are standard "U" groove profiles
5, Incoming and outgoing bushings are compatible with existing incoming and gun receiver bushings.
6, 3wheel weight 0.3kg
7. 6wheel weight 0.7kg
Straightener Type
Model
Type
Wire Diameter (Solid)
Roller Diameter (mm/inch)
Roller Qty (pcs)
structure
groove
JZQ 0.05-0.2/38AV
V-7
φ0.05-0.2mm
7(0.276)
38
quick clamping
V
JZQ 0.2-0.5/34AV
V-12
φ0.2-0.5mm
12(0.472)
34
V
JZQ 0.5-0.8/26AV
V-16
φ0.5-0.8mm
16(0.630)
26
V
JZQ 0.8-1.5/5/18AV
V-23
φ0.8-1.5mm
23(0.906)
5/18
V
JZQ 1.5-3/5/18AV
V-30
φ1.5-3mm
30(1.181)
5/18
V
JZQ 3-4/18AV
V-32
φ3-4mm
32(1.260)
18
V
JZQ 4-7/14/18/22AV
V-42
φ4-7mm
42(1.654)
14/18/22
unclamping
V
JZQ 5-8/14/18/22AV
V-54
φ5-8mm
54(2.126)
14/18/22
V
Model
Type
Tube/Pipe Diameter (Hollow)
Roller Diameter (mm)
Roller Qty (pcs)
structure
groove
JZQ 1-3/14/18 BU/R
U-30
1-3mm
30
18/14
quick clamping
U/R
JZQ 4-10/14/18/22 BU/R
U-42
4-10mm
42
14/18/22
unclamping
U/R
JZQ 10-20/14/18/22 BU/R
U-54
10-20mm
54
14/18/22
unclamping
U/R
I. Different groove types can be customized.
II. Quick clamping is straightener with a handle for easy opening and closing the rollers

Straightener adjustment diagram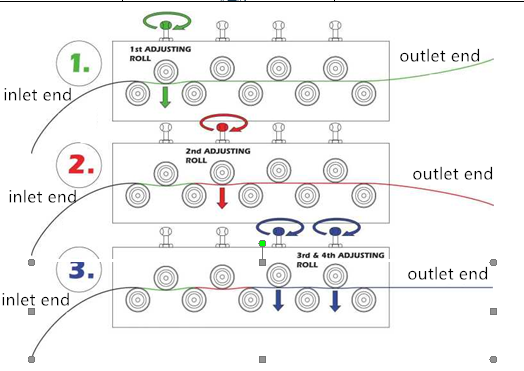 Product effect display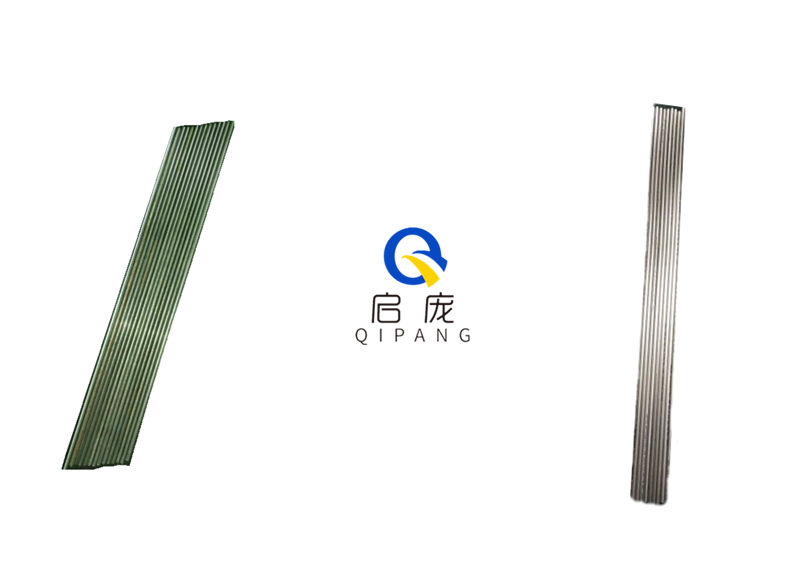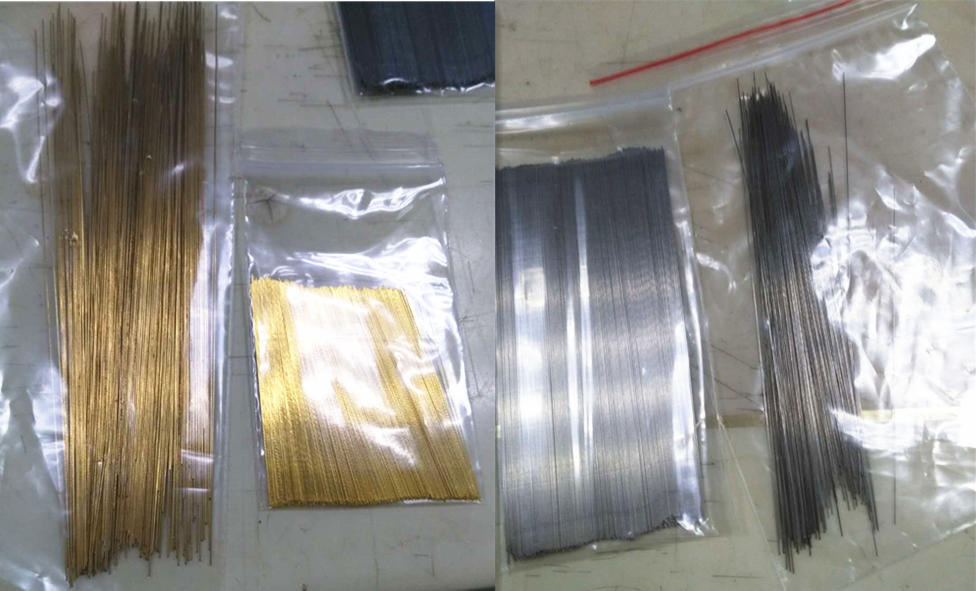 Straightener series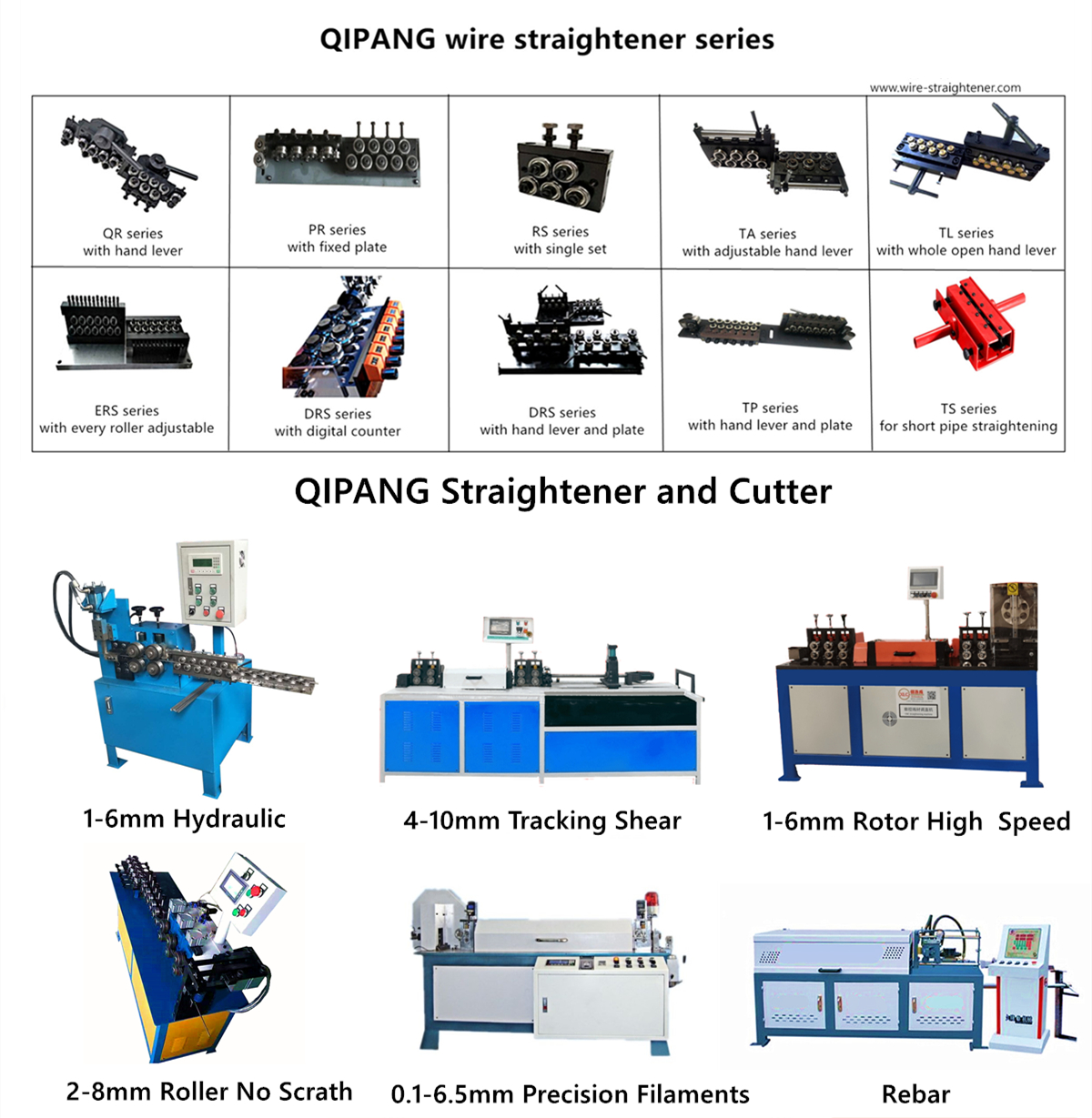 Factory & Store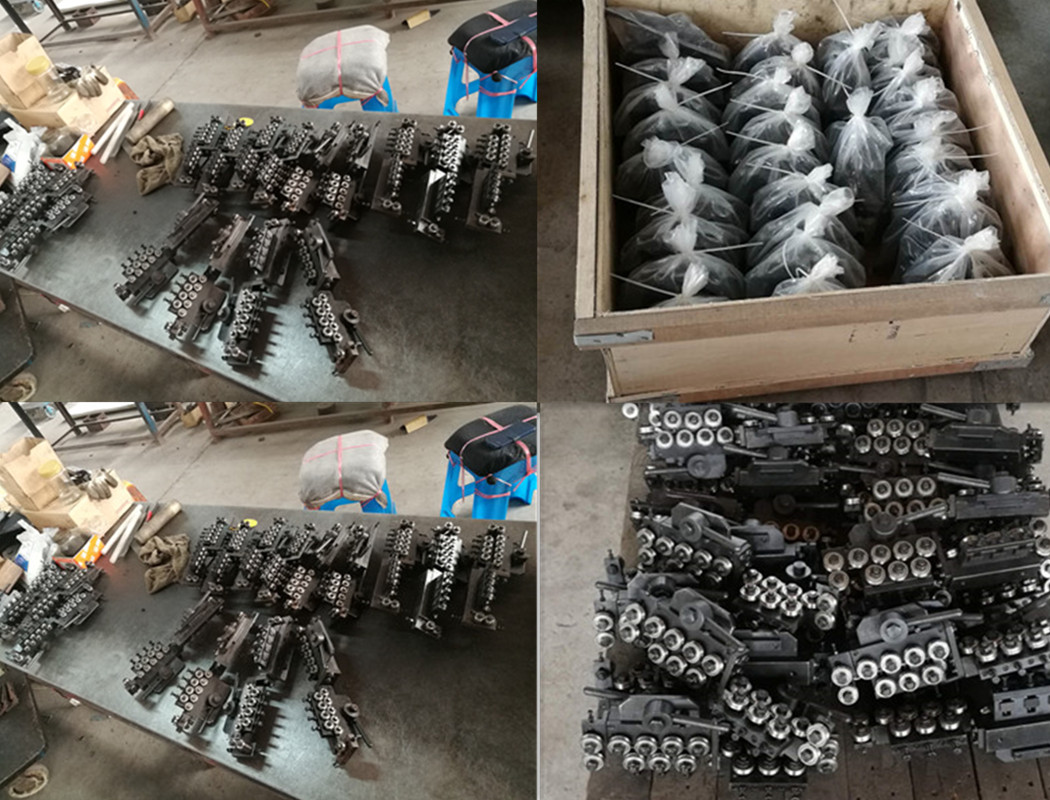 Customer Make QIPANG Wire Straightener
We can design and produce the wire straightener according to customer requirements.
1. Material ( steel,copper )
2. Diameter of steel wire or steel tube or copper tube
3. Operating speed ( m / min )
4. Single plane or double plane
5. If need qucik lever, if need guide roller, if need solid base
Equipment Reconstruction and Update
Just tell us the maker or brand of used wire straightener, and then we help you to select, optimize the suitable resulatiuons.
1,What's the diameter of your steel wire ? Minimum and maximum range,How to choose the right straightener according to their own material?
2,Does the raw material come in rolls, in bundles, Hollow roll or solid material?
3,Have you used it before? Now do you have any pictures you want to send to us?
4,If you are interested in our products, please contact me as soon as possible, I will offer you some discounts, you can contact me freely :Whatsapp:+8613672630866/Wechat:+8618916332415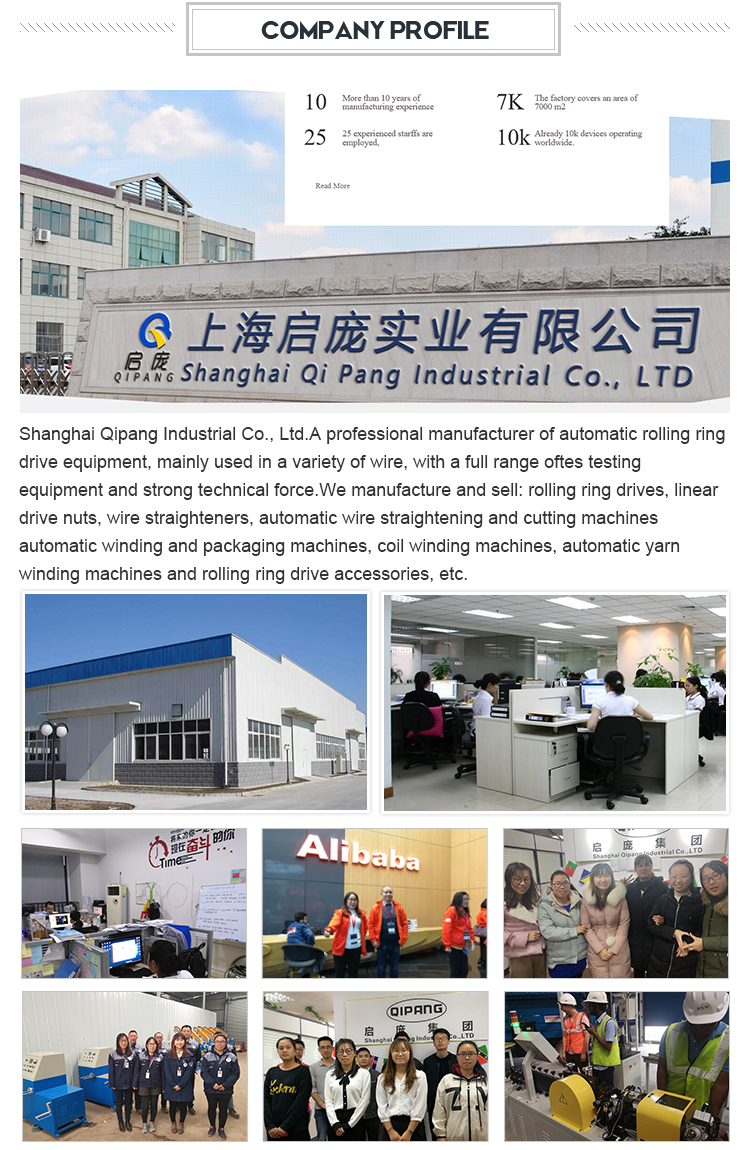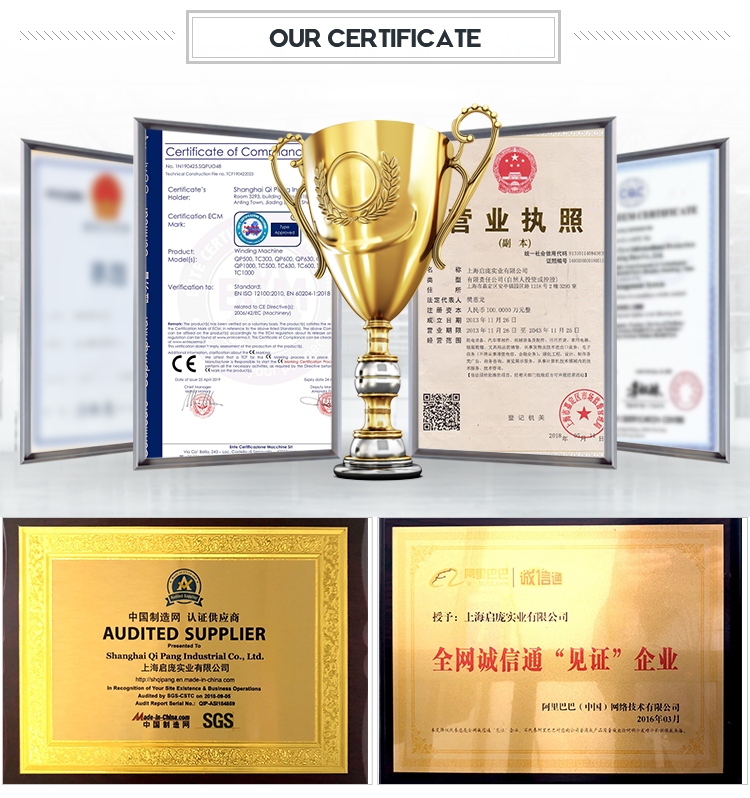 ---
Read more:
https://www.wire-straightener.com/wire-straighteners/
FAQ:
Q:How about your after-sale service?
A:We have a professional technology supporting team for your timely services. You can get the help you need in time by telephone, webcam, online chat (Google talk, Facebook, Skype). Please contact us once the machine has any problem. Best service will be offered.


Q:What is your terms of packing?
A: Generally, we pack our goods in neutral white boxes or wooden cartons.

Q: Will you send the installed machine or machine parts?
A:We will install the machine and test the machine before delivery. And the machine can be used directly after receiving the machine.

Q: Will you provide operation guidance for us?
A:We will send the instruction book with the machine and send you a video about how to operate the machine.

Q: How long is the warranty period?
A:12 months warranty, we will send you free spare parts by air within one week if there are any quality problems.