In industries where precision is paramount, such as wire manufacturing, achieving accurate cut-lengths is crucial. To meet the demand for strict length tolerances, rotary wire straighteners have emerged as a vital component of the production process. These machines enable the precise straightening of wires, regardless of their alloy composition, ensuring consistent and reliable results. In this article, we will delve into the workings of a rotary wire straightener, shedding light on its mechanism and highlighting its importance in delivering precision cut-lengths for cold drawn wires.
The Basics of Wire Straightening
Wire straightening is a process that involves removing deformations and bends from the wire to achieve a straight and uniform shape. Rotary wire straighteners utilize a combination of rotating rollers and adjustable guides to effectively eliminate any imperfections. The wire is fed through a series of rollers that rotate at high speeds, applying controlled pressure to straighten the wire. Simultaneously, adjustable guides ensure proper alignment and prevent further deviations. This continuous and automated process ensures that the wire is straightened uniformly along its entire length, meeting the strict length tolerances required by various applications.
Precision Cut-Lengths with Accuracy
One of the key features of a rotary wire straightener is its ability to deliver precise cut-lengths. The machine is equipped with advanced sensors and cutting mechanisms that work in tandem to achieve accuracy within tight tolerances, typically ±0.1 mm. As the wire passes through the straightening process, sensors detect its position and relay the information to the cutting mechanism. The cutting mechanism, synchronized with the wire's movement, precisely severs the wire at the desired length, ensuring consistency throughout the production run.
Versatility for Various Wire Types
A notable advantage of rotary wire straighteners is their compatibility with a wide range of wire types. Whether it is mild steel, stainless steel, or high-alloy wires, these machines can effectively straighten them all. The adjustable guides and rollers can be calibrated to accommodate different wire diameters and materials. This versatility makes rotary wire straighteners suitable for diverse industries, including automotive, construction, electronics, and more, where strict length tolerances are essential for optimal performance and safety.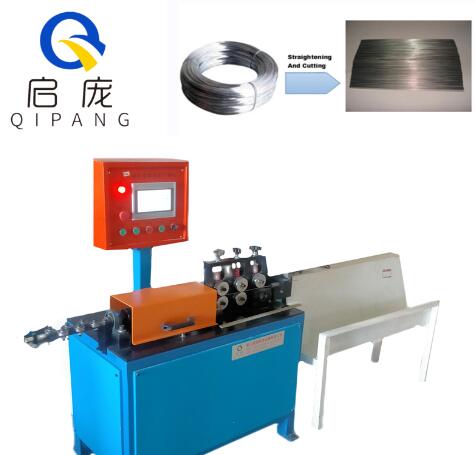 Automation for Efficiency
Automation plays a significant role in rotary wire straighteners, enhancing productivity and efficiency. These machines can be integrated into production lines, enabling seamless operation and reducing manual labor. They are equipped with programmable logic controllers (PLCs) that facilitate precise control of the straightening process, including roller speed, pressure, and guide adjustments. Additionally, automatic wire feeding and cutting mechanisms further streamline the operation, minimizing human intervention and maximizing throughput.
Conclusion
The operation of a rotary wire straightener is a fascinating process that combines mechanical precision, advanced sensors, and automation to achieve accurate cut-lengths for cold drawn wires. With the ability to straighten various wire types and maintain strict length tolerances, these machines have become indispensable in wire manufacturing industries. By ensuring consistent and reliable results, rotary wire straighteners contribute to the overall quality and performance of products in applications ranging from construction and automotive to electronics and beyond. QIPANG Automatic rotor straightening machine for precision cut-lengths of cold drawn wires. Ideal for all types of wires, mild to high-alloy, and for all applications where strict length tolerances (±0,1 mm).