QIPANG low cost high quality roll straightener customized groove China made
The QR model is by far the most popular model type in our line and with 2 hand lever. You can open and close the rollers more easy.
This high quality and robust design is suited for material diameters from nearly 0mm to 7mm OD in ten different sizes.
The QR model has the most common set up with one bank of rolls on one side of the material fixed while the rolls. on the other side are adjustable for the best straightening results. This model is available in 5 to 13 rolls per unit in odd increments and utilizes a quick opening cam for easy stringing up of the material.
This straightener is most commonly used in wire applications but also can be used for tubing, cable and other materials.
We use the highest quality roller bearings; and vee grooves are standard. Other profiles are available on customer request.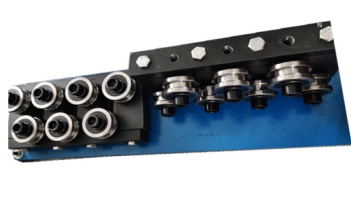 Wire Straightener series: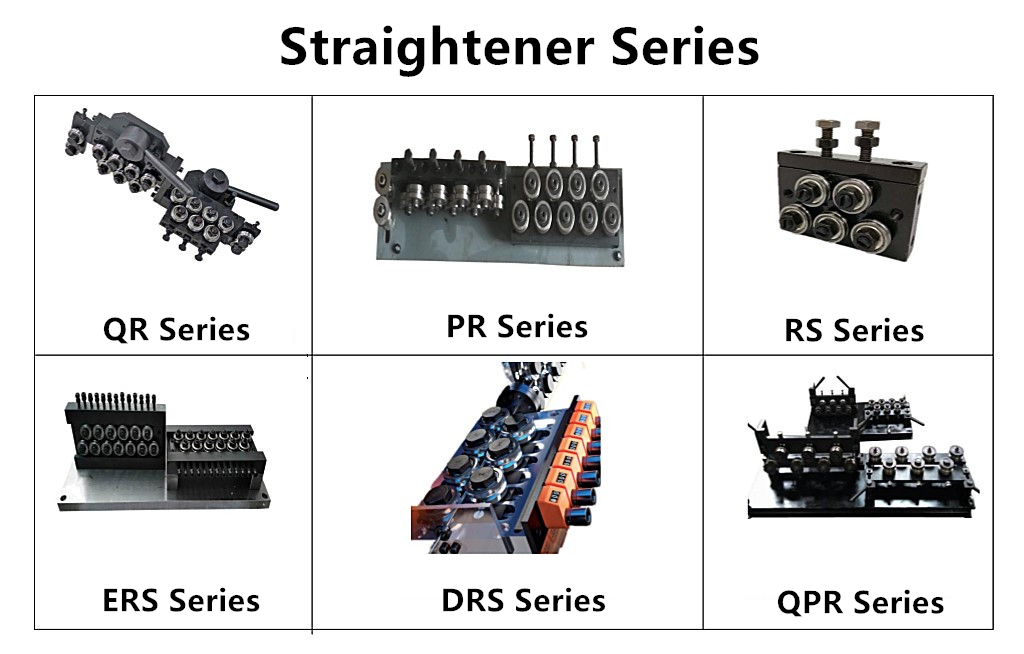 Straightener type introduction:
QR series:
1. With quick opening and closing handle, the whole opening and closing, easy to enter and exit the line
2. With guide to prevent the wire from drifting
3. Light weight
PR series:
1. With bottom plate, easy to fix
2. More stable during straightening
3. High positioning accuracy
RS series:
1. Can be used for wire positioning, increase certain resistance
2. Affordable price, easy installation
3. Easy to carry
ERS series:
The center can be adjusted freely, each straightening wheel can be adjusted according to the actual situation
DRS series:
1. Each time the amount of depression is displayed, it is convenient for subsequent operations
2. High accuracy
QPR series:
1. Easy to fix with large bottom plate
2. Easy to adjust wire entry and exit with handle
3. Larger wheel spacing, better straightening effect.
Straightener Overview:
Straightening machine is a device for straightening metal bars, pipes, wires, etc. The straightening machine changes the straightness by extruding a bar or the like with a straightening roller. There are generally two rows of straightening rollers, varying in number. There are also two-roll straighteners, which rely on the change in the angle of the two rolls (concave in the middle, hyperbola roll) to straighten materials of different diameters. The main types are pressure straighteners, balance roll straighteners, shoe roll straighteners and so on.
FAQ:
Q:How about your after-sale service?
A:We have a professional technology supporting team for your timely services. You can get the help you need in time by telephone, webcam, online chat (Google talk, Facebook, Skype). Please contact us once the machine has any problem. Best service will be offered.

Q: What are your payment terms?
A:100%TT or prepaid 50% , balance 50% before shipping.

Q: How can I get my order? How can I know you sent the goods?
A:We will send the goods by UPS, DHL, FedEx or sea shipment. After we sent the goods, we will give you the tracking number or other relative files for checking.
Q:What is your terms of packing?
A: Generally, we pack our goods in neutral white boxes or wooden cartons.
Q: Will you send the installed machine or machine parts?
A:We will install the machine and test the machine before delivery. And the machine can be used directly after receiving the machine.
Read More:
https://www.wire-straightener.com/qipang-product/