When it comes to ensuring the smooth, kink-free functionality of your cables and wires, Qipang's Metal Cable Straightener Machine is the ultimate solution. Our state-of-the-art equipment is designed to provide precision straightening for wires and cables of various sizes, offering an array of benefits that your projects demand.
1, Single and dual plane straightener models JZQ 0.2-0.5/34 AV
2, Eccentric roller open/closing device (lever)
3,From 5 ~ 17 rollers per group (17) or (17+17)
4,Roller diameters 12 mm (0.4724")
5,Adjustable rollers on the upper row
6, Rollers available for light or heavy duty applications
7,Model AS/AD for wire R = 60 N/mm2 (8400 psi) max. with normal rollers (single or double bearing)
8,Rollers are standard "V" groove profiles but can be provided with "U" grooves 9,according to customer requirements
*Wire Guide included
Straightening wheel advantages:
1, straightener roller material surface without scratches.It is made of bearing steel and nylon.
2, straightening wheels are made of bearings, using alloy roller group, carbide wheels, can be configured according to product specifications and customer requirements.You can do v-groove, U-groove, h-groove.
3, straightener straightness theoretically: the more the number of roller wheels, the better the straightening effect, the more variations,
4, straightener adjustment structure: with handle structure, can be opened and closed as a whole, save time.
Metal Straightening Tools Detailed Parameters
Model
Type
Wire Diameter (Solid)
Roller Diameter (mm/inch)
Roller Qty (pcs)
structure
groove
JZQ 0.05-0.2/38AV
V-7
φ0.05-0.2mm
7(0.276)
38
quick clamping
V
JZQ 0.2-0.5/34AV
V-12
φ0.2-0.5mm
12(0.472)
34
V
JZQ 0.5-0.8/26AV
V-16
φ0.5-0.8mm
16(0.630)
26
V
JZQ 0.8-1.5/5/18AV
V-23
φ0.8-1.5mm
23(0.906)
5/18
V
JZQ 1.5-3/5/18AV
V-30
φ1.5-3mm
30(1.181)
5/18
V
JZQ 3-4/18AV
V-32
φ3-4mm
32(1.260)
18
V
JZQ 4-7/14/18/22AV
V-42
φ4-7mm
42(1.654)
14/18/22
unclamping
V
JZQ 5-8/14/18/22AV
V-54
φ5-8mm
54(2.126)
14/18/22
V
Model
Type
Tube/Pipe Diameter (Hollow)
Roller Diameter (mm)
Roller Qty (pcs)
structure
groove
JZQ 1-3/14/18 BU/R
U-30
1-3mm
30
18/14
quick clamping
U/R
JZQ 4-10/14/18/22 BU/R
U-42
4-10mm
42
14/18/22
unclamping
U/R
JZQ 10-20/14/18/22 BU/R
U-54
10-20mm
54
14/18/22
unclamping
U/R
I. Different groove types can be customized.
II. Quick clamping is straightener with a handle for easy opening and closing the rollers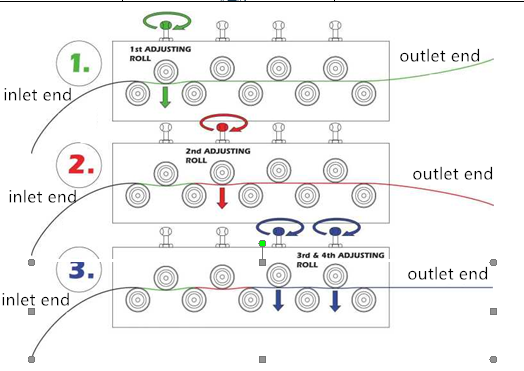 Key Features:
Cable Straightener Excellence: Our cable straightener machine is meticulously crafted to ensure the straightness of your wires, providing optimal performance in various applications.
Comprehensive Straightening Tools: We offer a versatile range of metal straightening tools, including wire straightener rollers and wire straightening tools, to cater to your specific needs.
Efficiency at its Best: The coil straightening equipment guarantees efficient and rapid straightening, saving you valuable time on your projects.
Unparalleled Quality: Qipang's metal straightener tool is built to last, providing longevity and consistency in straightening operations.
Customization Options: We understand that different projects require unique solutions. Our cable straightener tool can be tailored to meet your exact specifications. View solution details.
Wire Straightener Series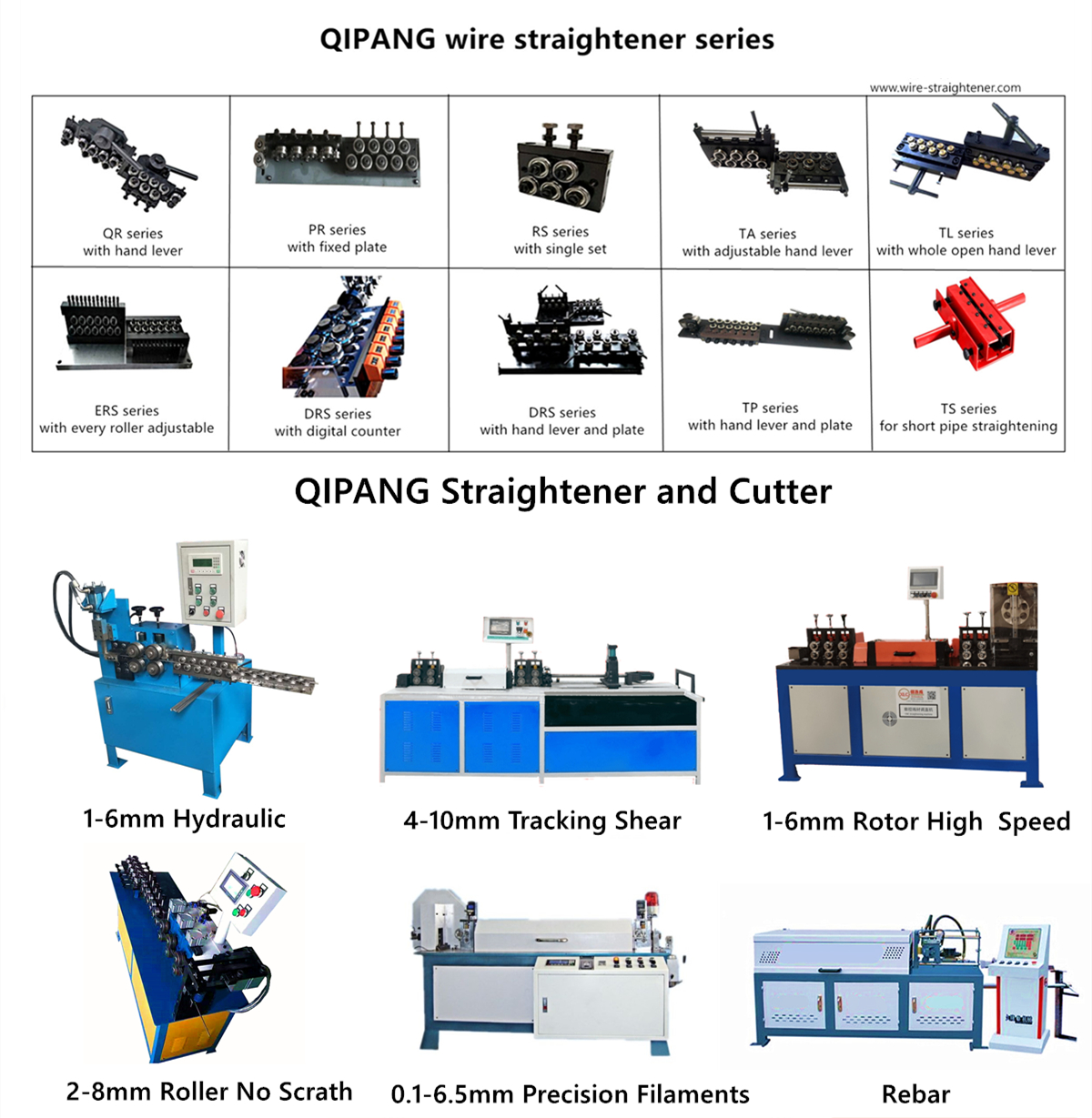 Why Choose Qipang's Metal Cable Straightener Machine?
Our commitment to quality and precision makes us the preferred choice for industries worldwide. With a focus on metal straightening tools, wire straightener rollers, and more, we ensure that your cables and wires maintain their integrity throughout your applications.
For achieving the highest level of accuracy and efficiency in your cable and wire straightening processes, trust in Qipang's 0.2-0.5mm Metal Cable Straightener Machine. Contact us today to discuss your specific requirements and receive a tailored solution that sets you on the path to success. With our expertise and dedication to quality, we are your trusted partner in achieving perfectly straight wires and cables.
Factory & Store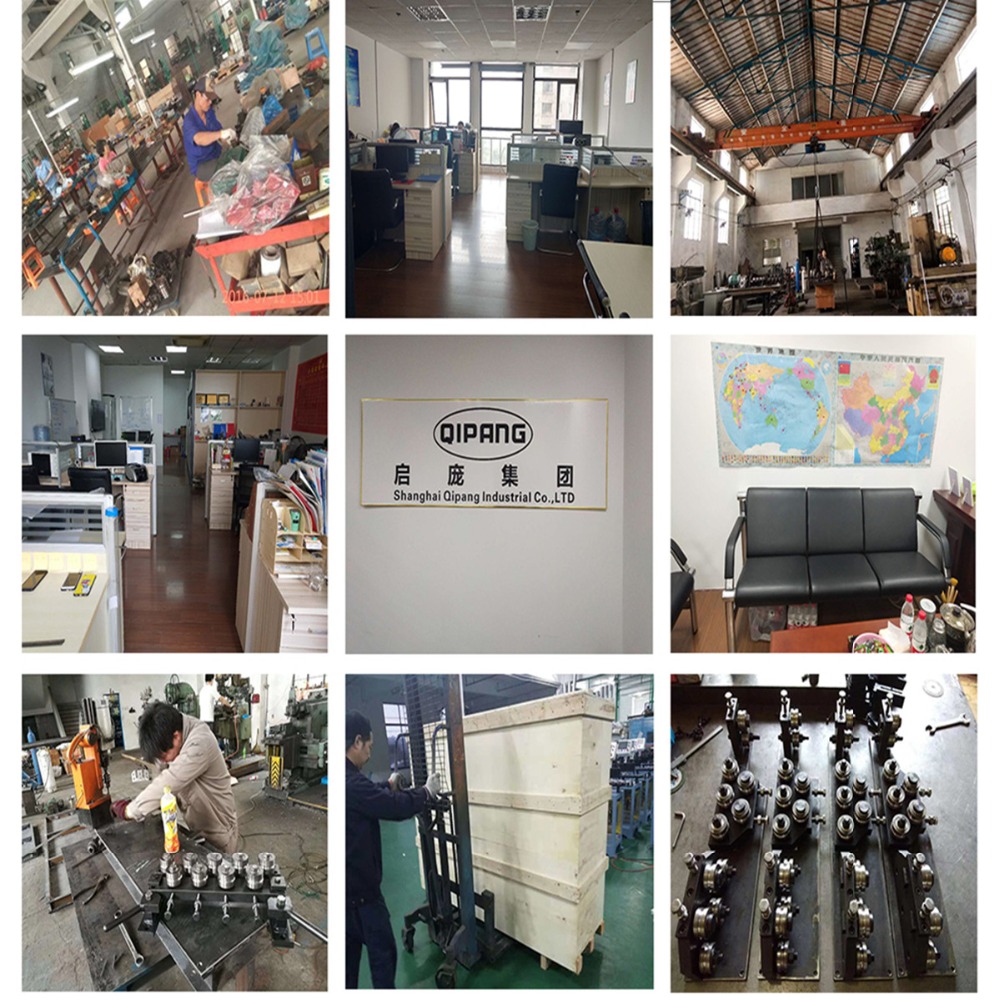 Shanghai Qi Pang Industrial Co., LTD. specializes in producing wire straightening machine and rebar and tube cutting machine with advanced production technology, modern production mode, complete varieties and diverse styles. We can provide you with not only the nice quality products but also the great services.
Package and transport

After-Sales Service
1.Maintenance period: one year
2.Training how to install the machine, training how to use the machine.
3.Engineers available to service machinery overseas.
4.Test the machine before shipment
5.Provide technical guidance relate to use the machine
6.Provide the spare parts at cost price after warranty period
7. Collect the feedback for the machine working
Purchase Confirmation
Pls tell me the following questions, so we can send you accurate quotation with additional discount:
1,What's the diameter of your steel wire ? Minimum and maximum range,How to choose the right straightener according to their own material?
2,Does the raw material come in rolls, in bundles, Hollow roll or solid material?
3,Have you used it before? Now do you have any pictures you want to send to us?
4,If you are interested in our products, please contact me as soon as possible, I will offer you some discounts, you can contact me freely :Whatsapp:+8613472630866/ Wechat:+8618916332415
FAQ about Metal Straightening Tools:
Q:Are you manufacturer?
A:Yes,we are manufacturer of Wire Straightening and Cutting Machine.Welcome to visit us!
Q: what's the MNQ, Can you offer the customed service?
A: The MNQ is 1 set, we provide customized service, as long as you provide drawings
Q:What payment terms do you accept?
A:We are flexible on payment terms,please contact us for details!
Q:What should I do to start a new business in Wire Straightener area?
A:Please contact us immediately,we provide free pre-sales consultant service of Wire Straightener.
Q:Why choose you?What is the difference between you and other Chinese supplier?
A:We have specialized in this area for over 13 years.Our Wire Straighteners are exported to Russia,India,UAE,South Korea,Canada,Vietnam,Thailand,Mexico,Turkey and etc. You can get higher quality product & better professional service with same price.
Q:I`m worried about after-sales service!
A:Warranty is one year.
Any parts damaged during warranty will be replaced for free!
We provide spare parts for life time at cost price.
Electrical parts such as boards and servo drives,we`ll provide them for life time as well at cost price.
Our engineers are available to service overseas!