QIPANG 5 wheels metal straightening machinery wire straightener techniques tool
QIPANG 5 wheels metal straightening machinery is designed for round steel wire with diameters between 0.8mm and 3mm.
QIPANG 5 wheels metal straightening machinery uses the highest quality roller bearings and U-grooves are standard, other profiles are available on customer request.
We offer a number of roll type possibilities for specific applications to tailor to unique demands including sleeved rolls with outer rings in different materials like stainless steel, PET plastic and hardened steel.
There are many options available and one of the more valued is fast spare parts distribution and sufficient inventory that substantially reduce set up time.
wire straightener techniques tool
1. Our wire straightener can straight 1/8 in (3.2mm) cored wire and 3/32 in (2.4mm) solid wire up.
2. The wire straightener model has a unique set up, with5 rollers per group.
3. Roller diameters 29 mm (1.142")
4. Wire straightener model has a unique set up, with one bank of rolls on one side of the material which is fixed, while the rolls on the other side are all mounted on a common bar adjusted by only two adjustment spindles to simplify adjustment for good straightening results. This model is available in 5 rolls per unit and utilizes a quick opening mechanism which eases the stringing up of material.
5. Rollers are standard "U" groove profiles
6. Incoming and outgoing bushings are compatible with existing incoming and gun receiver bushings.
7. QIPANG 5 wheels metal straightening machinery is weighted 0.45kg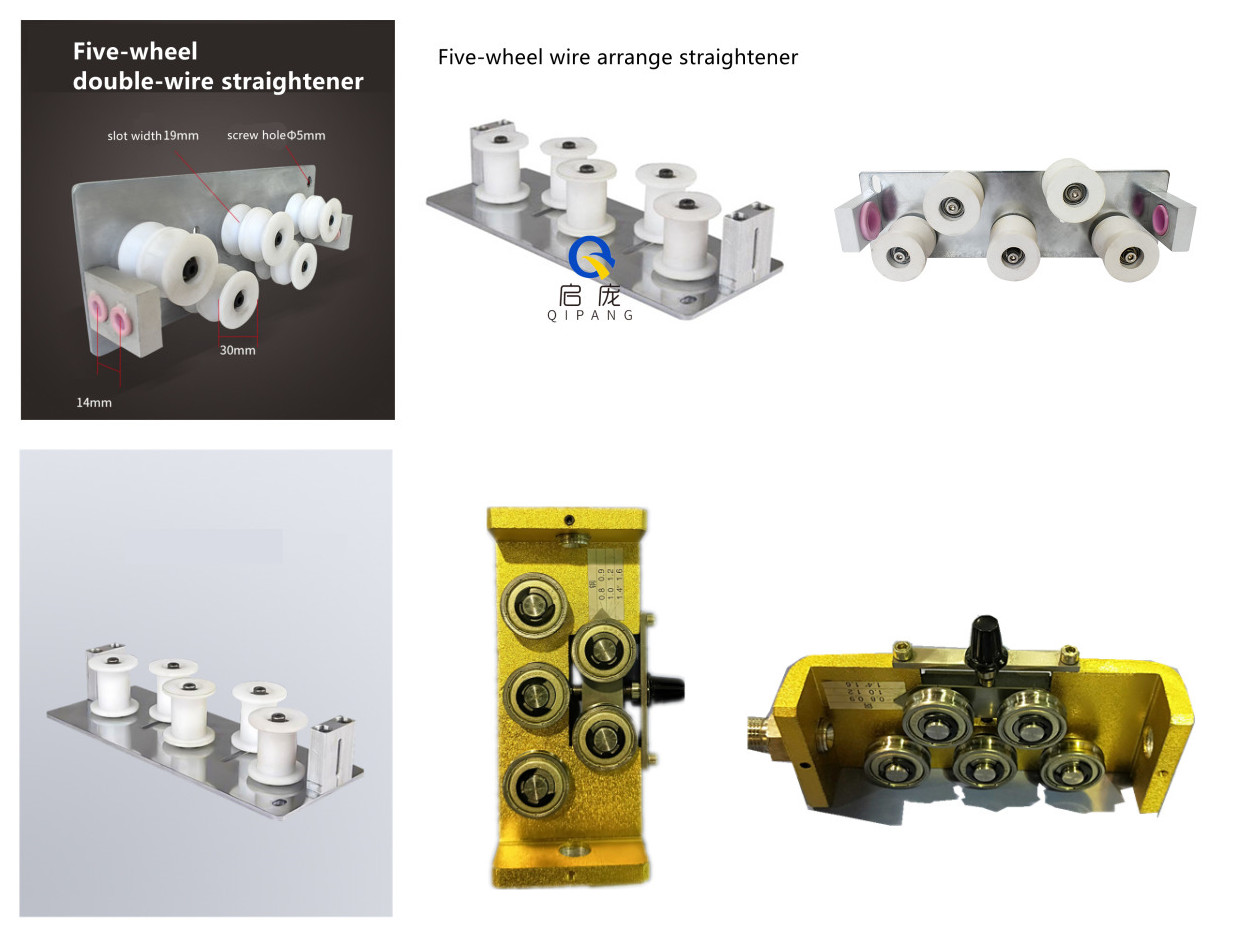 Straightener Type
Model
Type
Wire Diameter (Solid)
Roller Diameter (mm/inch)
Roller Qty (pcs)
structure
groove
JZQ 0.05-0.2/38AV
V-7
φ0.05-0.2mm
7(0.276)
38
quick clamping
V
JZQ 0.2-0.5/34AV
V-12
φ0.2-0.5mm
12(0.472)
34
V
JZQ 0.5-0.8/26AV
V-16
φ0.5-0.8mm
16(0.630)
26
V
JZQ 0.8-1.5/5/18AV
V-23
φ0.8-1.5mm
23(0.906)
5/18
V
JZQ 1.5-3/5/18AV
V-30
φ1.5-3mm
30(1.181)
5/18
V
JZQ 3-4/18AV
V-32
φ3-4mm
32(1.260)
18
V
JZQ 4-7/14/18/22AV
V-42
φ4-7mm
42(1.654)
14/18/22
unclamping
V
JZQ 5-8/14/18/22AV
V-54
φ5-8mm
54(2.126)
14/18/22
V
Model
Type
Tube/Pipe Diameter (Hollow)
Roller Diameter (mm)
Roller Qty (pcs)
structure
groove
JZQ 1-3/14/18 BU/R
U-30
1-3mm
30
18/14
quick clamping
U/R
JZQ 4-10/14/18/22 BU/R
U-42
4-10mm
42
14/18/22
unclamping
U/R
JZQ 10-20/14/18/22 BU/R
U-54
10-20mm
54
14/18/22
unclamping
U/R
I. Different groove types can be customized.
II. Quick clamping is straightener with a handle for easy opening and closing the rollers
Straightener series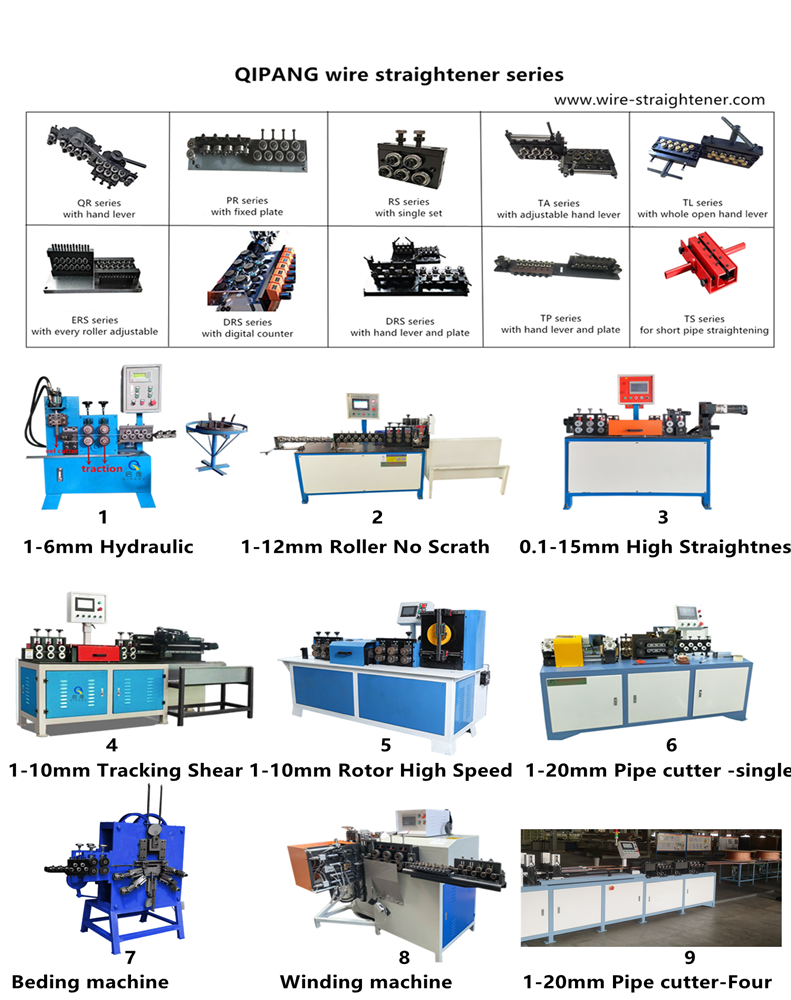 Customer Make QIPANG Wire Straightener
We can design and produce the wire straightener according to customer requirements.
1. Material ( steel,copper )
2. Diameter of steel wire or steel tube or copper tube
3. Operating speed ( m / min )
4. Single plane or double plane
5. If need qucik lever, if need guide roller, if need solid base
Equipment Reconstruction and Update
Just tell us the maker or brand of used wire straightener, and then we help you to select, optimize the suitable resulatiuons.
1,What's the diameter of your steel wire ? Minimum and maximum range,How to choose the right straightener according to their own material?
2,Does the raw material come in rolls, in bundles, Hollow roll or solid material?
3,Have you used it before? Now do you have any pictures you want to send to us?
4,If you are interested in our products, please contact me as soon as possible, I will offer you some discounts, you can contact me freely :Whatsapp:+8613672630866/Wechat:+8618916332415
About us
With more than 10 years of experience:
QIPANG has established an excellent reputation in the industry through the highest quality products designed and manufactured by outstanding engineering teams and providing our customers. After more than 10 years of continuous supply and maintenance of the highest quality machinery, tools, and accessories to the wire straightening industry, this excellent word of mouth continues today.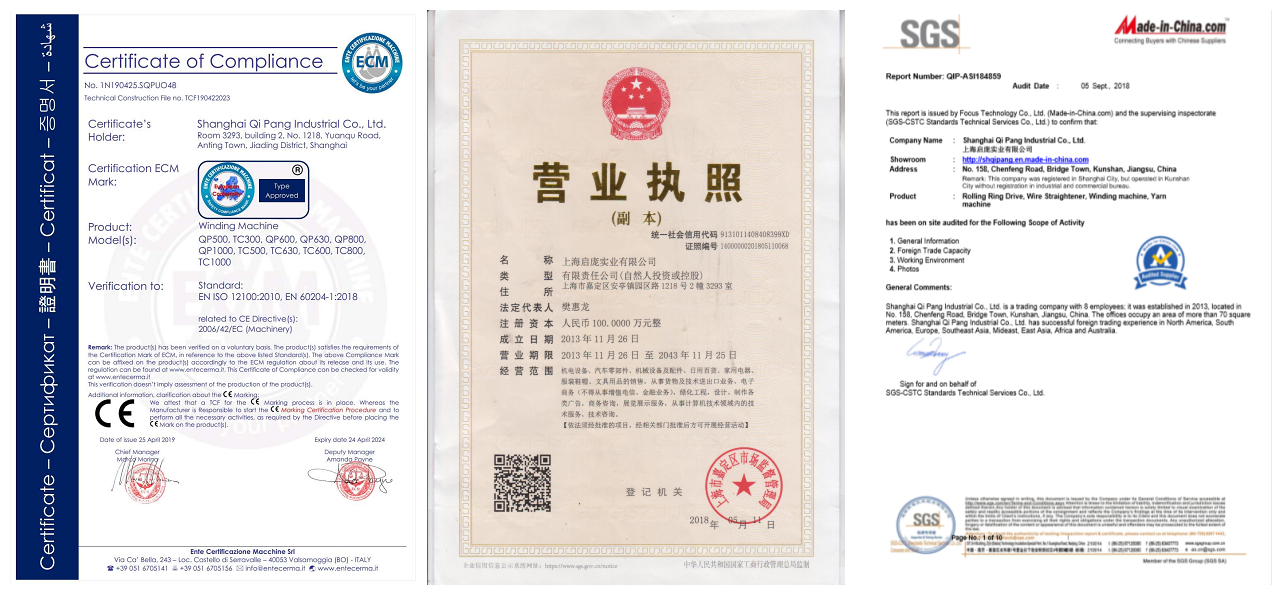 Committed to customer satisfaction:
Ultimately, our suggestion for the best straightener for your processing requirements will depend upon the material you are processing. So please, do not hesitate to call +86 150 0183 0288 or contact us here for help.
For purchasing ease, we supply a variety of wire straightener accessories for ease of set-up and "repeatability" of settings. For example: quick opening/closing options, roller position indicators, locking levers, entry/exit guide pulleys, guide dies, micrometer adjustment, guards.
In addition, our wide range of raw material handling products includes: tube straighteners, wire guides and tube guides, tube feeders and wire feeders or drive units, cable straighteners, strip and flat wire straighteners, custom built feeding machines, straightening rolls, preform heads, sleeve rolls for high speed and high temperature applications, computerized wire straightener and tube straightener adjustment systems.
In addition, QIPANG is located at Zhaofeng Road Subway Station, No. 11 Jiading Anting, Shanghai.
Since 2009, the metal products series machine has been provided.
---
After-sales service:
After the sale, the machine is guaranteed for one year under the premise of reasonable use of the customer. Maintain work at home and maintain response time of no more than 24 hours. Free maintenance during the warranty period, and the equipment maintenance service beyond the warranty period is subject to clear charges.
Read more:
https://www.wire-straightener.com/wire-straighteners/
FAQ:
Q:How about your after-sale service?
A:We have a professional technology supporting team for your timely services. You can get the help you need in time by telephone, webcam, online chat (Google talk, Facebook, Skype). Please contact us once the machine has any problem. Best service will be offered.

Q: What are your payment terms?
A:100%TT or prepaid 50% , balance 50% before shipping.


Q: Will you provide operation guidance for us?
A:We will send the instruction book with the machine and send you a video about how to operate the machine.

Q: How long is the warranty period?
A:12 months warranty, we will send you free spare parts by air within one week if there are any quality problems.
Q:What is your terms of delivery?
A: EXW, FOB, CFR, CIF, DDU.

Q:How about your delivery time?
A: Generally, it will send this product within three or five days after receiving your payment. The specific delivery time dependson the items and the quantity of your order.
QIPANG 5 wheels metal straightening machinery wire straightener techniques tool