Introducing the QIPANG 4-7mm Copper Wire Straightener Machine, the ultimate tool for effortlessly straightening and smoothing bronze wires. This high-quality bronze wire straightening machinechine is designed to provide precise and efficient results, making it an indispensable asset for any professional or DIY enthusiast working with bronze wires.
QIPANG 4-7mm copper wire straightener machine wire straightening pipe hand shrank straightener


1, Single and dual plane straightener models JZQ 4-7/10BV

2, With hand crank, 2rollers feeder(Bearing steel material, durable), dia of roller on 70mm.
3, Quantity of roller in stock 7rollers ,From 5 ~ 19 rollers per group (5+5,7+7,9+9,11+11,13+13,15+15,17+17,19+19)
4, Roller diameters 42mm (1.654") ,53mm(2.087)Customizable 7-120mm (0.27559"-4.724409")
5, Adjustable rollers on the upper row
6, Rollers available for light or heavy duty applications
7, Model AS/AD for wire R = 60 N/mm2 (8400 psi) max. with normal rollers (single or double bearing)
8, Rollers are standard "V" groove profiles but can be provided with "U" grooves
9, Bronze Wire Straightening Machine according to customer requirements*Wire Guide included
Bronze Wire Straightening Machine Advantages :
1. We have CE&SGS certification, ISO1990 Quality system certification, and so on...
2, Good quality and professional pre-sales, after-sales service
3, 13 years of development, manufacturing and marketing experience, the main customers are North America (United States, Canada, Mexico), Europe (Italy, Britain, France, Poland, Greece), Southeast Asia, etc.
4. Flexible development and customization OEM ODM
5. Excellent consulting team covering the world
6. Fast spare parts distribution and sufficient inventory

Bronze Wire Straightening Machine Type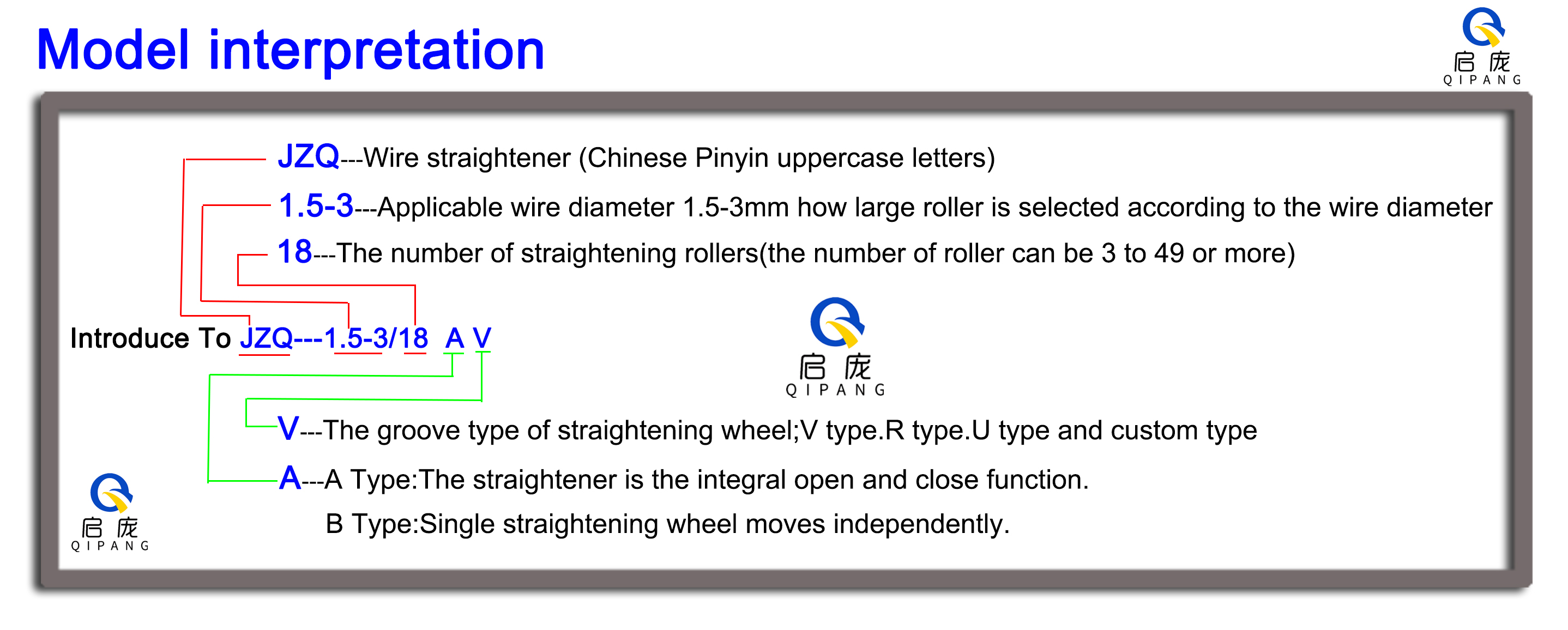 Model
Type
Wire Diameter (Solid)
Roller Diameter (mm/inch)
Roller Qty (pcs)
structure
groove
JZQ 0.05-0.2/38AV
V-7
φ0.05-0.2mm
7(0.276)
38
quick clamping
V
JZQ 0.2-0.5/34AV
V-12
φ0.2-0.5mm
12(0.472)
34
V
JZQ 0.5-0.8/26AV
V-16
φ0.5-0.8mm
16(0.630)
26
V
JZQ 0.8-1.5/5/18AV
V-23
φ0.8-1.5mm
23(0.906)
5/18
V
JZQ 1.5-3/5/18AV
V-30
φ1.5-3mm
30(1.181)
5/18
V
JZQ 3-4/18AV
V-32
φ3-4mm
32(1.260)
18
V
JZQ 4-7/14/18/22AV
V-42
φ4-7mm
42(1.654)
14/18/22
unclamping
V
JZQ 5-8/14/18/22AV
V-54
φ5-8mm
54(2.126)
14/18/22
V
Model
Type
Tube/Pipe Diameter (Hollow)
Roller Diameter (mm)
Roller Qty (pcs)
structure
groove
JZQ 1-3/14/18 BU/R
U-30
1-3mm
30
18/14
quick clamping
U/R
JZQ 4-10/14/18/22 BU/R
U-42
4-10mm
42
14/18/22
unclamping
U/R
JZQ 10-20/14/18/22 BU/R
U-54
10-20mm
54
14/18/22
unclamping
U/R
I. Different groove types can be customized.
II. Quick clamping is straightener with a handle for easy opening and closing the rollers
Bronze Wire Straightening Machine adjustment diagram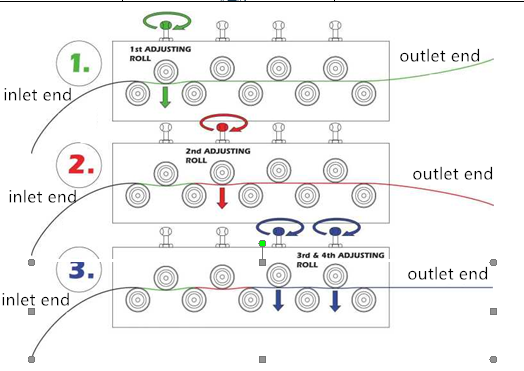 Bronze Wire Straightening Machine Application
A bronze wire straightening machine is a specialized piece of equipment designed to straighten and prepare bronze wires for various applications. The bronze wire is commonly used in industries such as electrical, electronics, jewelry making, and art.
The main application of a bronze wire straightening machine is to ensure that the wire is straight, smooth, and free from kinks or bends. This is important because the straightened wire is easier to handle, work with, and integrate into different processes. Here are some specific applications where a bronze wire straightening machine is commonly used:
●Electrical and Electronics Industry: Bronze wires are used in the production of electrical components, connectors, coils, and transformers. Straightened wires are essential to ensure proper connectivity, winding, and assembly of these components.
●Jewelry Making: Bronze wires are often used in the creation of jewelry pieces such as bracelets, necklaces, and earrings. Straightening the wire ensures it can be easily manipulated and shaped into desired designs.
●Sculpture and Artwork: Artists and sculptors may use bronze wires to create intricate sculptures and artwork. Straightened wires allow for precise bending, shaping, and detailing.
●Mesh and Wire Products: Bronze wire meshes and screens are used in various industrial and commercial applications, such as filtration, sieving, and decorative purposes. Straightened wires are necessary to maintain the structural integrity and appearance of these products.
●Craft and DIY Projects: Bronze wires are popular materials for craft and DIY enthusiasts. They can be used for wire wrapping, beading, model making, and other creative projects. Straightened wires make it easier to achieve desired shapes and designs.
A bronze wire straightening machine typically consists of rollers or guides that straighten the wire as it passes through them. The machine may also include additional features such as cutting mechanisms to trim the wire to the desired length.
Overall, a bronze wire straightening machine plays a crucial role in preparing bronze wires for a wide range of applications, ensuring they are straight, smooth, and ready to be used in various industries and creative endeavors.
Product display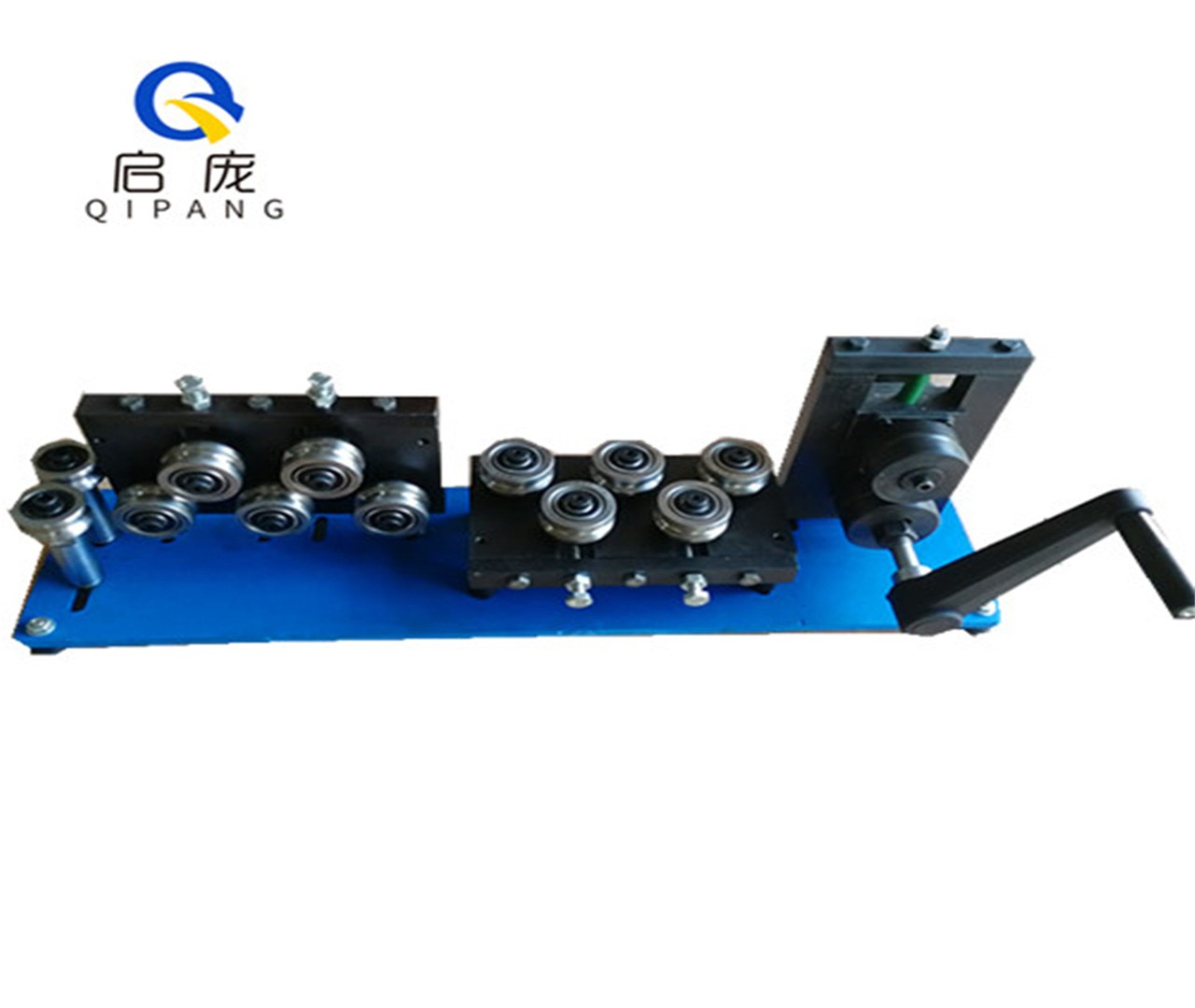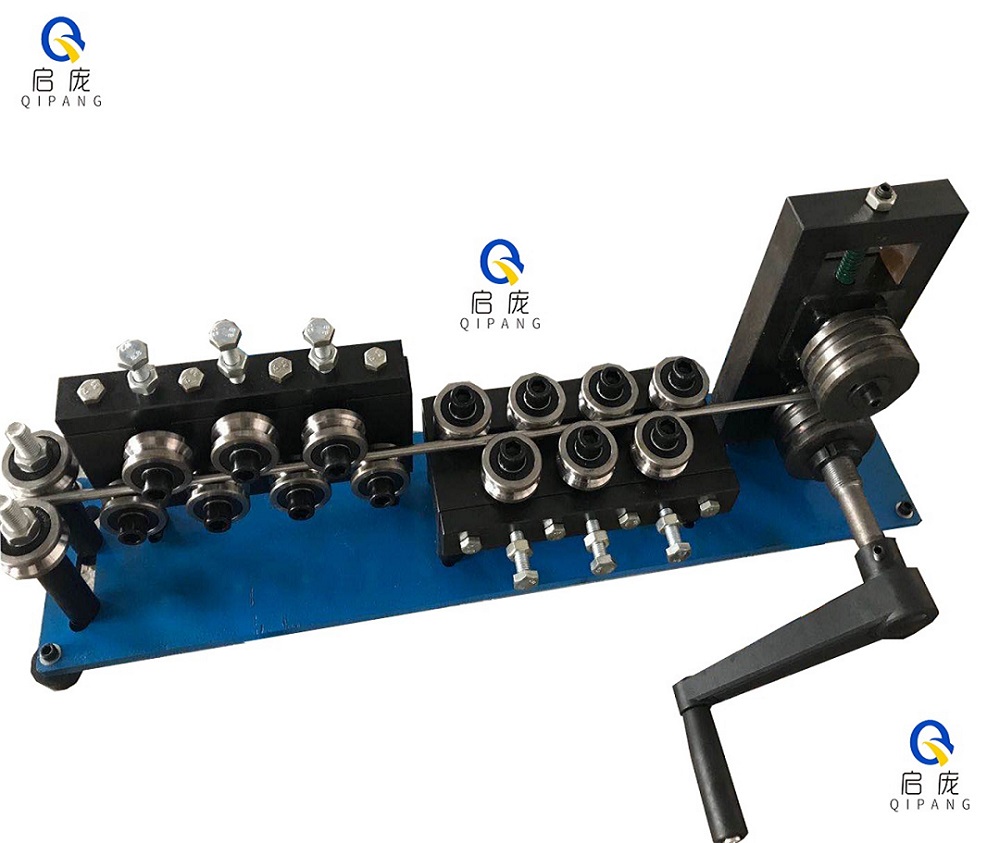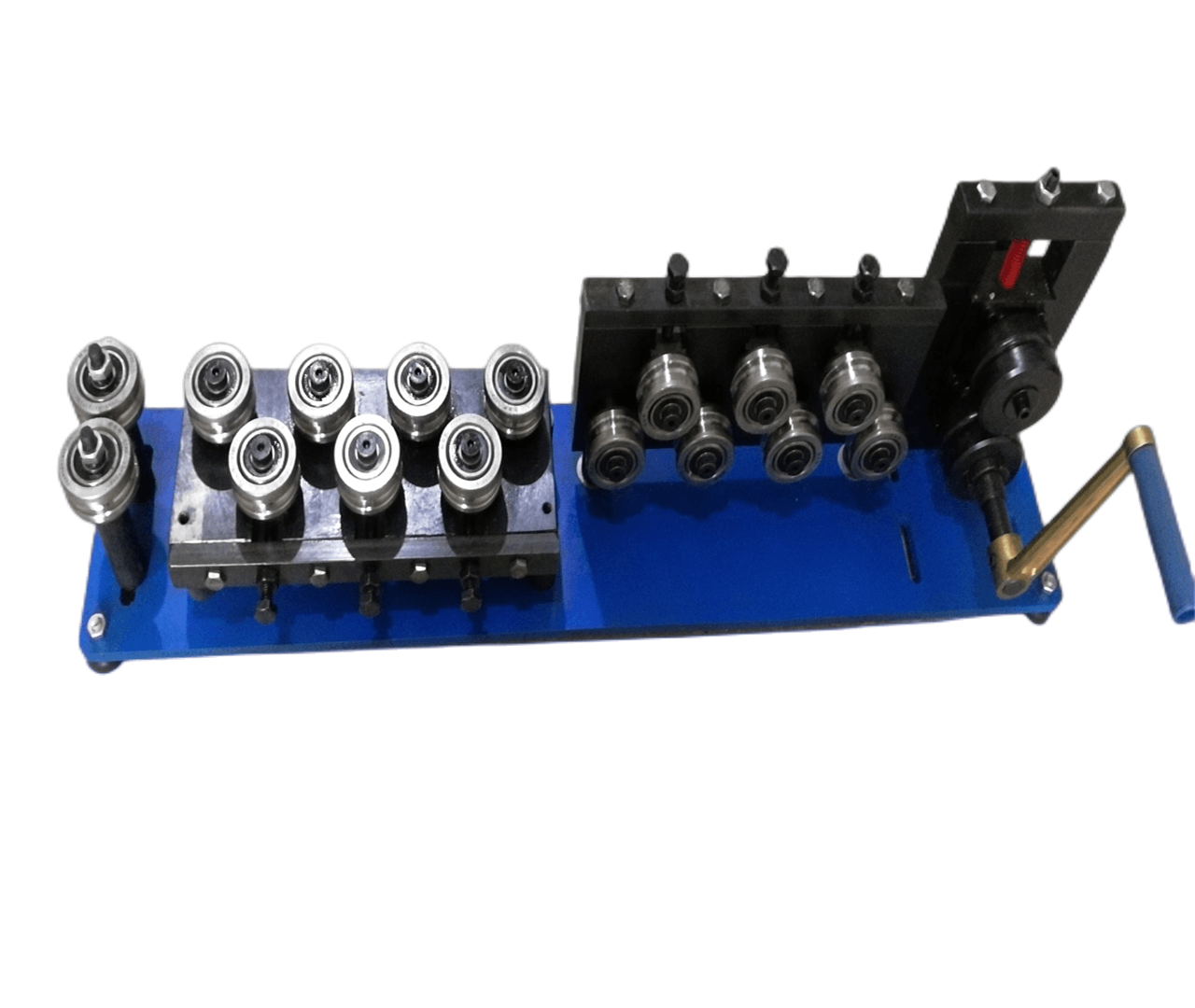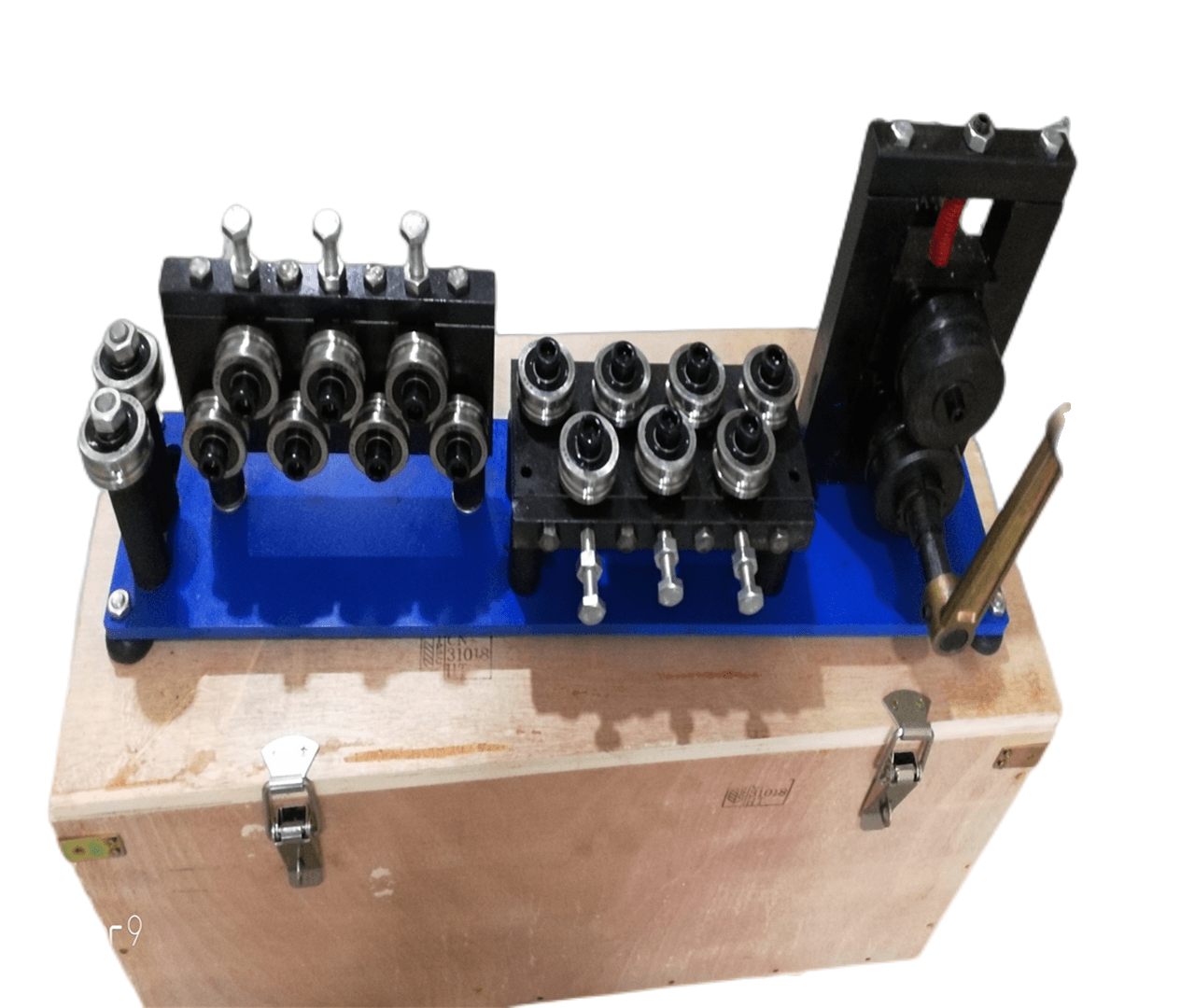 The Bronze Wire Straightening Machine is equipped with advanced technology and features a hand crank mechanism, allowing you to easily control the straightening process. Simply insert the bronze wire into the machine's straightening pipe and gently turn the hand crank to apply the necessary pressure. As you rotate the crank, the wire passes through the straightening pipe, gradually removing any bends or kinks, resulting in perfectly straight and uniform wires.
Crafted with durability and longevity in mind, this wire straightener machine boasts a sturdy construction and is made from high-quality materials. The robust design ensures stability and minimizes the risk of damage to both the machine and the wires. Whether you're working on intricate jewelry designs, artistic sculptures, or industrial applications, the QIPANG Copper Wire Straightener Machine is built to withstand heavy use and deliver consistent straightening performance.
The Bronze Wire Straightening Machine is specifically designed for wires with a diameter ranging from 4mm to 7mm, making it highly versatile and suitable for various wire thicknesses. Its adjustable settings allow you to customize the straightening process to meet your specific requirements, ensuring precise and tailored results every time. Customize My Special One.
With its compact size and ergonomic design, this wire straightener machine is portable and easy to use. Whether you're working in a professional workshop or a small studio, you can conveniently bring the machine to your workspace without any hassle. Its user-friendly interface and intuitive operation make it suitable for beginners and experienced users alike.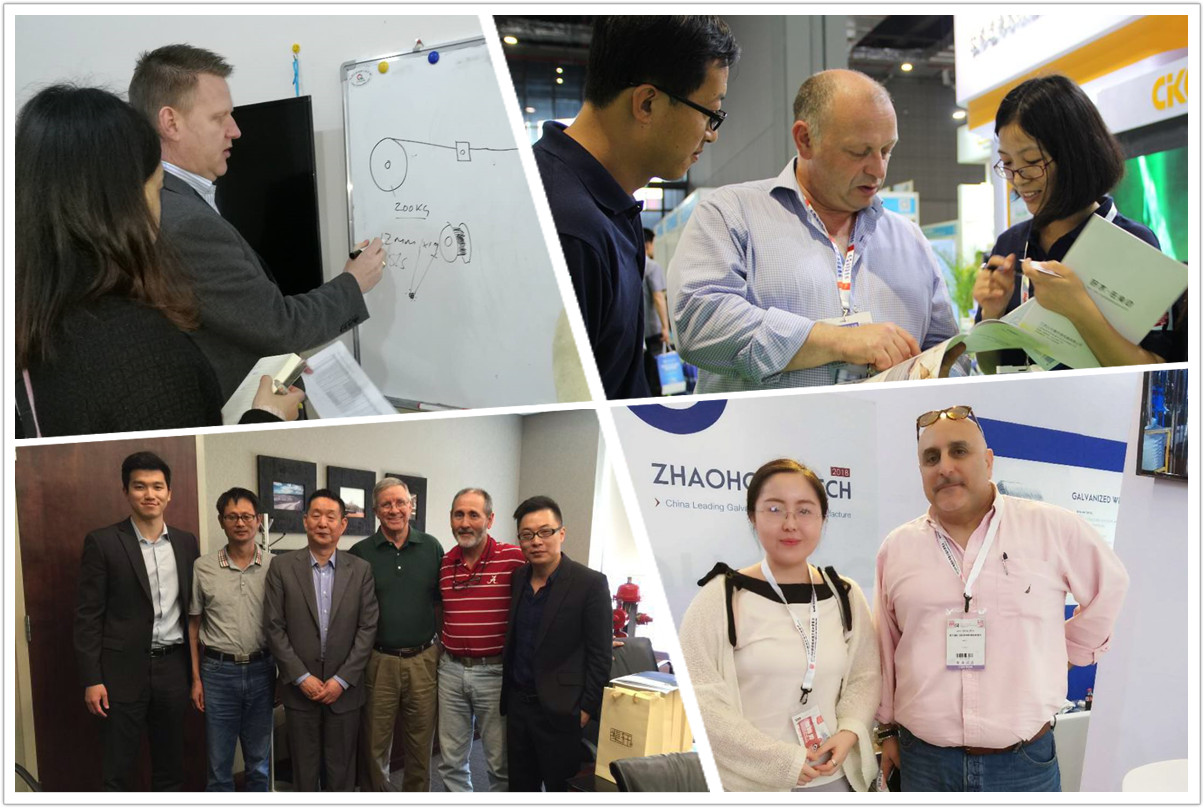 ---
Invest in the QIPANG Bronze Wire Straightening Machine and elevate your wire straightening capabilities to new heights. Experience the efficiency, accuracy, and convenience offered by this exceptional tool. Don't compromise on quality or settle for less when it comes to straightening bronze wires. Choose the Bronze Wire Straightening Machine and achieve flawless results with ease, time and time again.
Discover More:

High Quality QIPANG wire cable straightener 70-120mm rollers with motor
QIPANG 2-20mm customized wire straightener machine with feeder and motor machine
QIPANG straightening machine for tube mill machine to straighten steel tube 3/8" tube roller straightener