Introducing the Cable Straightening Machine, the perfect solution for straightening wires of 0.1-0.2mm diameter. This Manual Wire Straightener Machine is designed to straighten and adjust wires with ease, providing a clean and professional look for your wirework projects.
Crafted with durable materials, this Cable Straightening Machine is built to last and withstand heavy use. The machine's adjustable rollers ensure consistent and accurate wire straightening, making it an ideal tool for anyone who wants to create precise wirework pieces.
With its compact size and easy-to-use design, the Cable Straightening Machine is perfect for hobbyists, DIY enthusiasts, and professionals alike. Whether you're working on a small project at home or need to straighten wires for large-scale production, this machine will save you time and effort.
So if you're looking for a reliable and efficient way to straighten wires, look no further than the Cable Straightening Machine. Invest in this Manual Wire Straightener Machine today and take your wirework projects to the next level!
Manual wire straightener machine for 0.1-0.2mm diameter cable straightening techniques tool

Mainly used on drawing machines
1, Single and dual plane straightener models JZQ 0.05-0.2/38 AV
2, Eccentric roller open/closing device (lever)
3, Quantity of roller in stock 19+19 ,From 5 ~ 19 rollers per group (5+5,7+7,9+9,11+11,13+13,15+15,17+17,19+19)
4,Roller diameters 7mm (0.27559") ,Customizable 7-120mm (0.27559"-4.724409")
5,Adjustable rollers on the upper row
6, Rollers available for light or heavy duty applications
7,Model AS/AD for wire R = 60 N/mm2 (8400 psi) max. with normal rollers (single or double bearing)
8,Rollers are standard "V" groove profiles but can be provided with "U" grooves 9,according to customer requirements
*Wire Guide included

Straightening wheels are made from bearings,made of Alloy roller set, Carbamide wheel, According to product specifications and customer requirements to Configuration. You can do V groove, U groove.
JZQ38/7 A.V 0.1-0.3 detailed parameters
JZQ---wire straightener
38------ The number of straightening rollers is 24
7------ The diameter of the straightening roller
A------- A Type:The straightener is the integral open and close function .
B Type:Single straightening wheel moves independently.
V-------The groove type of straightening roller; V,R,U,and customization
Straightening wire specification:Φ0.1mm----Φ0.3mm Total weight of straightener:
The machine is 5kg, including package about 5 kg Straightener size:length 220mm×width 120mm×height 120mm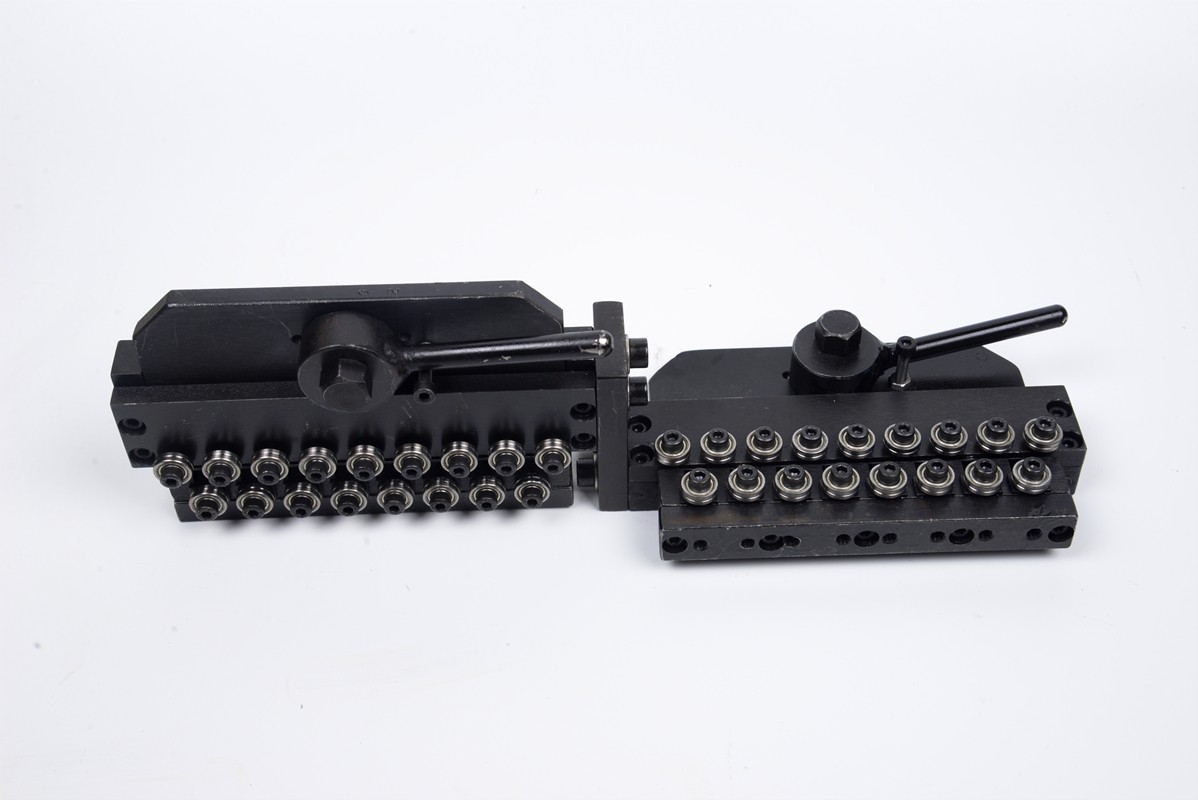 Cable Straightening Machine Features and Benefits:
High Precision Straightening: The Cable Straightening Machine is equipped with advanced straightening rollers that ensure high-precision straightening of the cable and wire. The rollers are made of high-quality materials that provide excellent grip and reduce slippage.
Efficient De-coiling: The machine is designed to efficiently de-coil cable wire, which reduces scrap and reworks. The de-coiling process is smooth and even, ensuring that the wire remains intact and undamaged.
User-Friendly Controls: The machine is easy to use, with user-friendly controls that allow operators to adjust the machine settings quickly. The controls are intuitive and straightforward, reducing the learning curve for operators.
Robust Construction: Our Cable Straightening Machine is made of high-quality materials that are durable and robust. The machine is designed to withstand heavy use and can operate for extended periods without any issues.
Low Maintenance: The machine requires minimal maintenance, which reduces downtime and maintenance costs. The machine is designed to be easy to clean and maintain, with easily accessible parts that can be replaced quickly.
Applications of Manual Wire Straightener Machine For 0.1-0.2mm:
The Cable Straightening Machine is ideal for cable and wire processing industries, including:
Cable and Wire Manufacturers

Electrical Equipment Manufacturers

Automotive Industries

Aerospace Industries

Construction Industries
Our Cable Straightening Machine is an essential piece of equipment for any cable and wire processing facility. The machine's high-precision straightening and efficient de-coiling ensure that cable and wire remain undamaged, reducing scrap and rework. The machine is easy to use, durable, and requires minimal maintenance, making it an excellent investment for any business that values efficiency, productivity, and profitability.